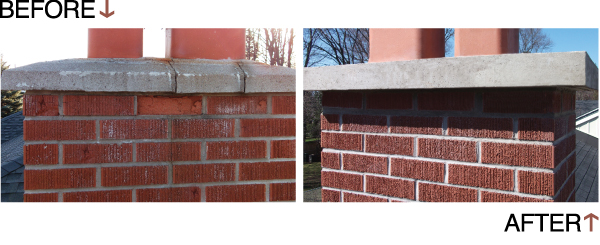 Repair and Maintenance
Rebuilds
Tuckpointing
Flashing
Chimney Caps
Dampers
Masonry Fireplace Fronts
Firebox
Exterior Cleaning
Sealing
---
Jay's Masonry chimney specialists have the skills and expertise to ensure your chimney repair and full, safe function

With regular exposure to rain, wind, snow, and severe temperatures, your chimney is one of the most vulnerable places on the exterior of your home. The bricks and mortar on the chimney will often deteriorate before any other part of your home. And the state of your chimney is very important for several reasons.
A damaged chimney can contribute to a fire, carbon monoxide leaks, collapse, interior smoke damage, black mold from excess moisture, or the risk of falling pieces of material.
But don't worry, Jay's Masonry specializes in chimney repairs. Our team of highly experienced chimney repairman know exactly what is needed to maintain and fix your chimney. And Jay's Masonry works on all types of masonry chimneys including brick, stone work, terracotta, sandstone, river rock and more.
Some common signs of a chimney that needs repair include:
Visible cracks in the chimney sides or crown
Smoke escaping from the sides of the chimney when lit
Damaged mortar between the chimney and roof
Rust on the damper or firebox, an indication of excess moisture
White staining on the chimney, called efflorescence
Bits of masonry flaking off the outside, called spalling
Of course, the only way to know for sure what your chimney needs is to give us a call and have an inspection. We can come out and assess your chimney as soon as possible. Get a free chimney repair, rebuild or build estimate by giving Jay's Masonry a call at 705-730-3371.